Projects in development |
ANNA
Anna is an interactive transatlantic experience composed of a video game and a web-series that merge the story of two worlds. The series follows Anna, a young woman who disappears in the real world and is found in the virtual one of Stony Mountain, a cold and hostile place, whose inhabitants have lost their memories.
The point of entry to the series changes depending on the audience's location. Viewers in Europe start the story with Anna's father, in the South of France, desperately searching for her. Viewers in North America start the story with Anna, in virtual Stony Mountain, looking for her long lost mother. As the narrative evolves, viewers on both sides of the Atlantic become aware that there is more to the drama to explore. The audiences are bridged together by the game.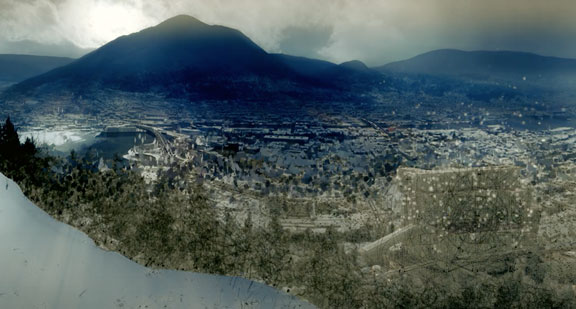 The game explores the creation of this virtual world, the history of Anna's mother's disappearance and it unlocks the mystery behind Anna's journey. The player is put front and center in the game, called upon to solve mysterious puzzles that complete the story, and enrich the narrative of the series.
Anna will be produced in 2016, after two years of intense development that has ensured the project to be entertaining and artistically innovative. With potential to incorporate advanced technologies into its storytelling, Anna is currently exploring various market partners, including a collaboration with VR gear.
Produced by KNGFU/Amythos Media in Canada and AGAT/Ex Nihilo in France, Anna is the first co-production of its kind, and has received financial and/or broadcast support from CMF, CNC, Radio-Canada and France Télévisions.

Projects in development |
THE COSMIC JOKE
The Cosmic Joke is a 360o experience. Using virtual reality technology, audiences are encouraged to choose their viewing perspective, literally putting them into the center of the action of this web series.
Seamlessly blending quick comedic cutting with immersive 360o video, this innovative series revolves around the fictional story of five stand-up comedians on an North American tour. Each comedian is from a distinct cultural and religious background: A devout Christian with anger issues; an inept but well-intentioned Buddhist; a bitter and insecure atheist; an even-keeled and hilarious Muslim; and an ironic and acerbic Jew. Their mission is to spread tolerance through laughter. The five of them are crammed together on a crummy old school bus with their crooked manager. It does not take long for jokes to be slung and for sparks to fly. Viewers get thrown into the middle of the arguments and the fun, creating a wholly immersive story that promises to be poignant, provocative, and entirely new.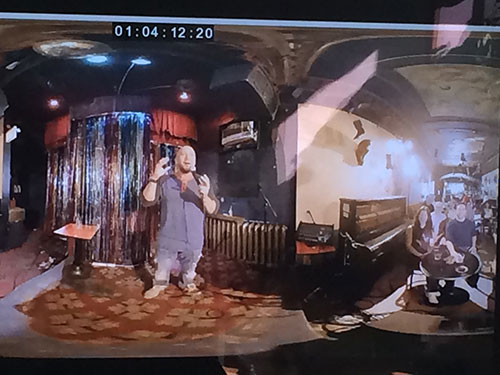 Produced by Amythos Media, Inc. and DEEP, Inc., The Cosmic Joke is currently in the packaging stage of development.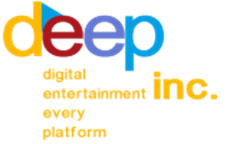 Projects in development |
REBLINK
(A digital intervention in museums)
"Stop, take a moment, BLINK. Everything you see is not what it seems..."
According to museum researchers, the average visitor spends 15 to 30 seconds in front of a work of art. The Mona Lisa, the most famous painting in the world, averages 17 seconds.?In this modern world, society has become conditioned to consume and discard images almost instantly. For institutes already struggling to fulfill their cultural mission of deepening people's appreciation of art, engaging the Instagram generation presents a growing problem for museums and galleries. ReBlink dramatically interrupts this pervasive cultural behavior by using the visitor's mobile device as a tool to trigger pause and reflection. ReBlink captures the visitor's attention and engages their imagination, allowing them to explore a self-directed experience of the artwork in front of them on a variety of different levels and contexts. ReBlink makes museum visitors stop and magically opens new levels of participation. Imagine, you stand in front of a painting, hold your mobile device up and see a beautifully animated, modern day re-interpretation of the painting in augmented reality. Then, with a swipe of your thumb certain parts of the painting are highlighted to learn extraordinary facts. Swipe again and you can use your device like an x-ray machine to look through the layers of the painting. Swipe again and you can learn about the location, people or symbols depicted in the painting. Another swipe and you can grade the popularity of the work and see how others rank it. Is it one of the museum's popular destinations? Or a hidden treasure that you have discovered?
Illuminating, inspirational, entertaining and educational, ReBlink brings museum works alive as never before by actively engaging visitors in a dynamic, self-driven adventure of discovery of the rich universe of art.
Developed by Alex Mayhew.
A Mayhew Digital, Amythos Media production in collaboration with OCAD U and the Art Gallery of Ontario.
CLICK HERE TO WATCH A SHORT PROOF OF CONCEPT